Skip Global navigation and goto content
DOH Sarasota COVID-19 Vaccination Clinic - Priority Groups (65+)
December 29, 2020
HOW TO GET VACCINATED 
You must be age 65 or older and you must remain in Sarasota County to receive your second-round shot, 28 days after your first appointment.
Download and complete the Department of Health COVID-19 Vaccine Screening and Consent Form and bring it to your appointment in order to be vaccinated.
Bring your consent form, registration ticket and a valid ID to your appointment.
WHEN 
Appointments will be available beginning at 2 p.m. today, Appointment is required
Additional appointments will be available soon.
WHERE 
William L. Little Health and Human Services building located at 2200 Ringling Boulevard, Sarasota 34235. Free parking is located across the street in the parking garage.
ADDITIONAL INFORMATION 
You will need to bring the following to your appointment:
Valid form of identification (driver's license, passport, etc.)
OVERVIEW 
Securing and distributing a COVID-19 vaccine is a top priority for the state of Florida. A COVID-19 vaccine will be a critical resource to preventing the further spread of the virus and allowing Floridians to return to the normal pace of life.
The state of Florida is committed to providing timely and important updates regarding the distribution of a COVID-19 vaccine. The state is working alongside the federal government to answer key questions for Floridians and secure additional therapeutic treatments for our hospitals as we continue to respond to COVID-19 in our state.
Florida has launched a COVID-19 Vaccine Report that will be updated daily at FloridaHealthCOVID19.gov. This report includes a breakdown of who has received the vaccine by age, race, sex and county.
On December 23, Governor Ron DeSantis announced Executive Order 20-315, which states:

During this first phase of vaccine administration, all providers administering any COVID-19 vaccine shall only vaccinate the following populations:

Long-term care facility residents and staff;
Persons 65 years of age and older; and
Health care personnel with direct patient contact.
Hospitals, however, also may vaccinate persons who they deem to be extremely vulnerable to COVID-19.

Governor DeSantis also announced that in addition to hospitals, County Health Departments will begin vaccinating individuals 65 and older in the coming weeks as supply permits.
At this time, a limited amount of COVID-19 vaccine has been received by select County Health Departments; as more doses become available, County Health Departments will work with their community partners to provide vaccines to those 65 and older.
Each County Health Department will work directly with their community partners to notify the community when vaccine is available, and will provide information about what will be needed to register for vaccination.
More details will be provided on this process as they become available.
Over the past two weeks, more than 170 hospitals across the state have received doses of the COVID-19 vaccines, and as a part of their allocation, hospitals received enough doses to vaccinate their entire frontline health care staff and have vaccine remaining.
MODERNA COVID-19 VACCINE 
On December 18, 2020, the U.S. Food and Drug Administration issued an emergency use authorization (EUA) for the second vaccine for the prevention of coronavirus disease 2019, COVID-19.
 The emergency use authorization allows the Moderna COVID-19 Vaccine to be distributed in the U.S for use in individuals 18 years of age and older.
The Moderna vaccine is a 2-dose series separated by 28 days.
The state is expecting to receive 367,000 doses of the Moderna vaccine this week.
Included in this distribution, doses of the vaccine will be distributed to 173 hospitals in 43 counties that did not receive doses in the first allocation of the Pfizer COVID-19 vaccine. For more information including a list of these hospitals, please refer to the announcement by Governor DeSantis.
PREPARATION 
The State of Florida has been proactively preparing for vaccine distribution since July.
The Florida Division of Emergency Management created a stockpile of resources in anticipation of distributing the COVID-19 vaccine. This includes 5 million syringes, 5 million needles, 5 million band-aids, etc. These initial purchases were made to prevent any delay in administering a vaccine, once it becomes available.
The Department is working closely with the federal government to plan for the distribution of a COVID-19 vaccine. A draft plan was submitted to the Centers for Disease Control and the state and is available online at https://www.floridahealthcovid19.gov.
As we gather more information from the federal government on vaccine availability and distribution, this plan will continue to be updated.
OVERALL DISTRIBUTION 
In addition to working with CVS and Walgreens, the state is also launching a pilot in Broward and Pinellas counties to vaccinate long term care facilities in conjunction with their respective county health departments.
In the initial planned distribution of 179,400 doses of Pfizer vaccine, 97,500 doses will be distributed amongst the 5 Florida pilot hospitals.
60,450 doses will be sent to the Federal Pharmacy Program with CVS and Walgreens for long-term care facility residents and staff.
21,450 doses will go directly to the Florida Department of Health to administer by strike teams in long term care facilities.
Strike teams were sent to Broward, Pinellas and Dade counties to assist with vaccine administration to long-term care facilities.

At this time, the teams have visited 111 nursing homes over the last week.

They will then work with partners from the Florida National Guard and
The vaccine is expected to arrive this week and distribution will begin almost immediately.
LONG TERM CARE FACILITIES 
The State of Florida is prioritizing the most at-risk populations to receive the initial round of vaccines. This includes:

Residents and staff of long-term care facilities
High risk frontline health care workers

The state has prioritized the safety of these populations since the onset of the pandemic. These populations are the most at-risk to contract the virus and experience complications from the virus.
The Department is working closely with partners to distribute the vaccine to long-term care facilities, including CVS and Walgreens.
CVS and Walgreens are working under Operation Warp Speed to distribute the vaccine to long-term care facilities across the nation, and they are a critical partner here in Florida.
The state is also working with the Agency for Health Care Administration to ensure that we are prioritizing the most vulnerable and are working closely with the administrators of long-term care facilities to address any challenges they face.
AHCA has established emergency rules requiring that Nursing Homes and Assisted-Living Facilities enroll in the CVS/Walgreens Program. More than 97% of all facilities have already enrolled.
DISTRIBUTION TO HOSPITALS 
As vaccines continue to be developed, the state of Florida has been aggressively working to secure adequate and reliable storage for the COVID-19 vaccine.
The Pfizer vaccine requires extraordinary storage capabilities. Once this was announced, the state immediately began working to identify hospitals that are capable of storing this vaccine.
The state surveyed all hospitals in Florida to determine demand and storage capabilities. The state then sent the collected information to the federal government and the federal government made the final determination of which hospitals will receive the initial vaccine supply. The five hospitals identified are:

Jackson Memorial Hospital in Miami-Dade County
Memorial Healthcare System in Broward County
Tampa General Hospital in Hillsborough County
Advent Health in Orange County
UF Health in Duval County
VACCINATION FOR THE GENERAL PUBLIC 
Following the initial distributions to high-risk frontline health care workers and long-term care facility staff and residents, the state will work to provide vaccine to additional priority groups, including first responders.
The state is committed to providing the vaccine to each priority group and to the general public as quickly as possible, however, much of these plans are dependent on vaccine supply.
Updates on timeline for the general public will be provided as those plans become available.
For Media Inquiries
Recent Articles
Statewide Articles
20220627-national-hiv-testing-day-pr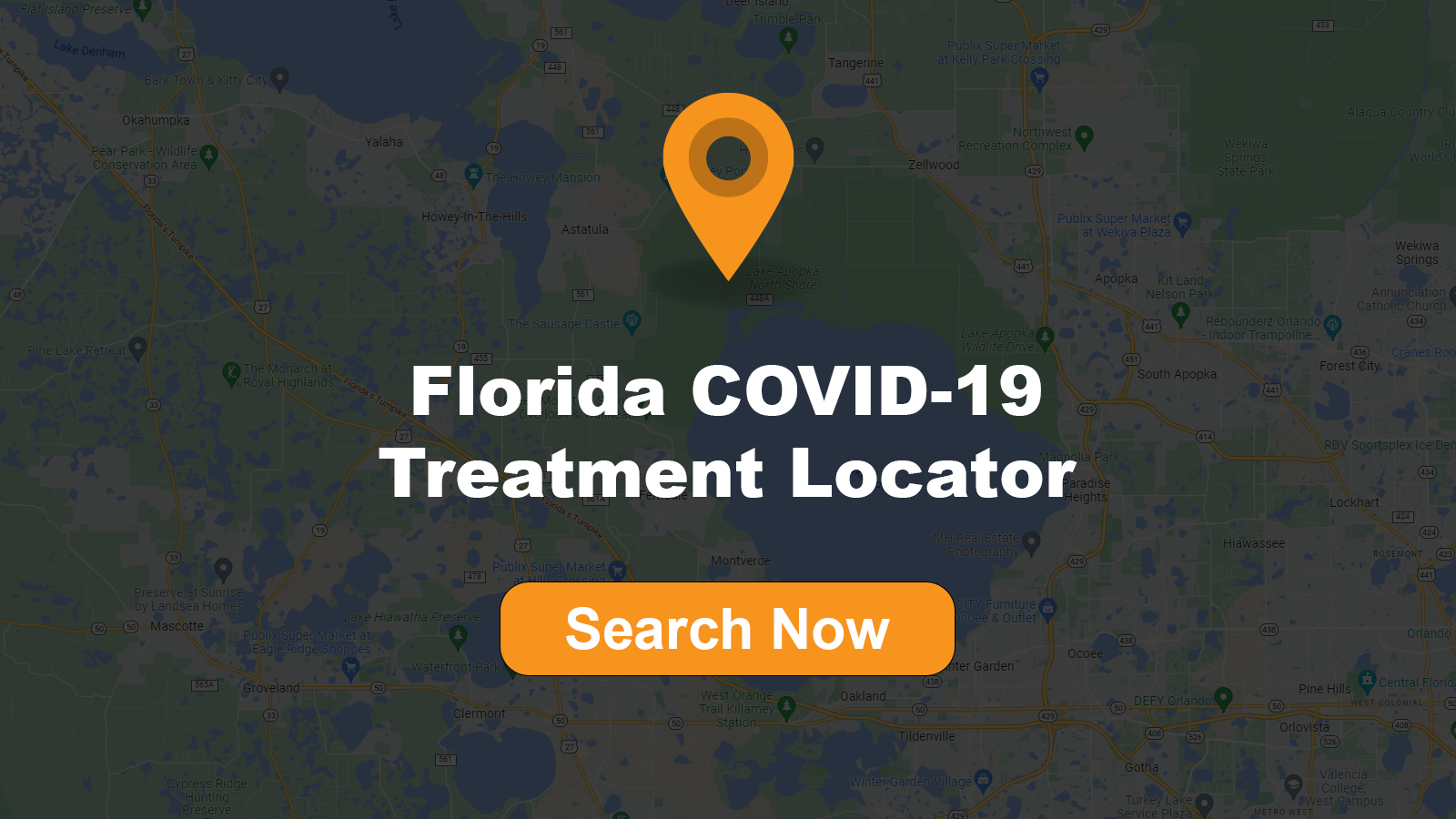 Treatment Locator
20220617-provider-alert-pediatric-covid-19-vaccines.pr
20220603-gov-desantis-2022-budget
Local Articles
None