Skip Global navigation and goto content
Left navigation requires javascript to be enabled in your browser.
When red tide is present, a sign will be posted to inform the public and provide information. [DOC 13KB]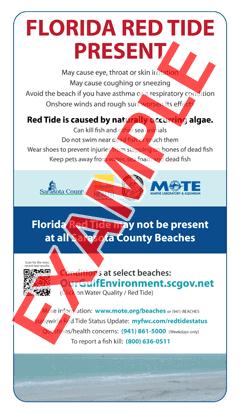 Red Tide
Main Administrative Office
 

Mailing Address

William L. Little Health and Human Services Center 

2200 Ringling Blvd 

Sarasota FL 34237 
Protect yourself and family against Florida Red Tide exposure. Please read signage when you go to area beaches. Not all beaches are affected. Conditions can change daily. Check the Mote Marine twice daily Beach Conditions Report at
https://www.visitbeaches.org/
or call 1-941-BEACHES
Red Tide Observed Effects at Monitored Beaches

| Location | Date | Cell Count /mL |
| --- | --- | --- |
| Longboat Key | 3/13/2023 | 0 |
| Bird Key Park | 3/13/2023 | 0 |
| North Lido Beach | 3/13/2023 | 0 |
| Lido Beach (Casino) | 3/13/2023 | 0 |
| South Lido Park | 3/13/2023 | 0 |
| Siesta Key | 3/13/2023 | 0 |
| Turtle Beach | 3/13/2023 | 0 |
| Nokomis Beach | 3/13/2023 | 0 |
| North Jetty | 3/13/2023 | 0 |
| Venice Beach | 3/13/2023 | 0 |
| Service Club Park | 3/13/2023 | 0 |
| Venice Fishing Pier | 3/13/2023 | 0 |
| Brohard Beach | 3/13/2023 | 0 |
| Caspersen Beach | 3/13/2023 | 0 |
| Manasota Beach | 3/13/2023 | 0 |
| Blind Pass | 3/13/2023 | 0 |
Table Data Last Modified: Tue Mar 14, 2023 18:41:17 EDT
| Description | Karenia brevis cells/ML | Possible Effects (Karenia brevis only) |
| --- | --- | --- |
| Not present in background | 0 - 1 | None Anticipated. |
| Very Low | > 1 - 10 | Possible respiratory irritation; shellfish harvesting closures > 6 cells/mL. |
| Low | > 10 -< 100 | Respiratory irritation; possible fish kills and bloom chlorophyll probably detected by satellites at upper range. |
| Medium | > 101 -< 1,000 | Respiratory irritation and probably fish kills. |
| High | > 1,000 | As above plus discoloration |
Table Data Last Modified: Tue Feb 12, 2019 14:52:12 EST
Red tides have been documented along Florida's gulf coast since the 1840's.
The Florida red tide organism, Karenia brevis, produces a toxin that may kill marine animals and affect humans.
A red tide bloom is a higher-than-normal concentration of a microscopic alga (plant-like organisms).
It is important to realize that many people still enjoy the beaches during red tides. Respiratory irritation and dead fish are not always present
.People
may experience respiratory irritation (coughing, sneezing, and tearing) when the red tide organism is present
along
a coast and winds blow its aerosol onshore.
People with severe or chronic respiratory conditions are advised to avoid red tide areas.
Generally, symptoms are temporary.
Swimming in waters with red tide is safe for most people.
However, red tide may cause some people to suffer from skin irritation and burning eyes.
If you experience irritation, get out of the water and thoroughly wash.
For more information regarding red tide, visit our Links to our Partners 
A
Red Tide Rack Card
 [PDF 2.36MB] with useful facts and tips about red tide is available.